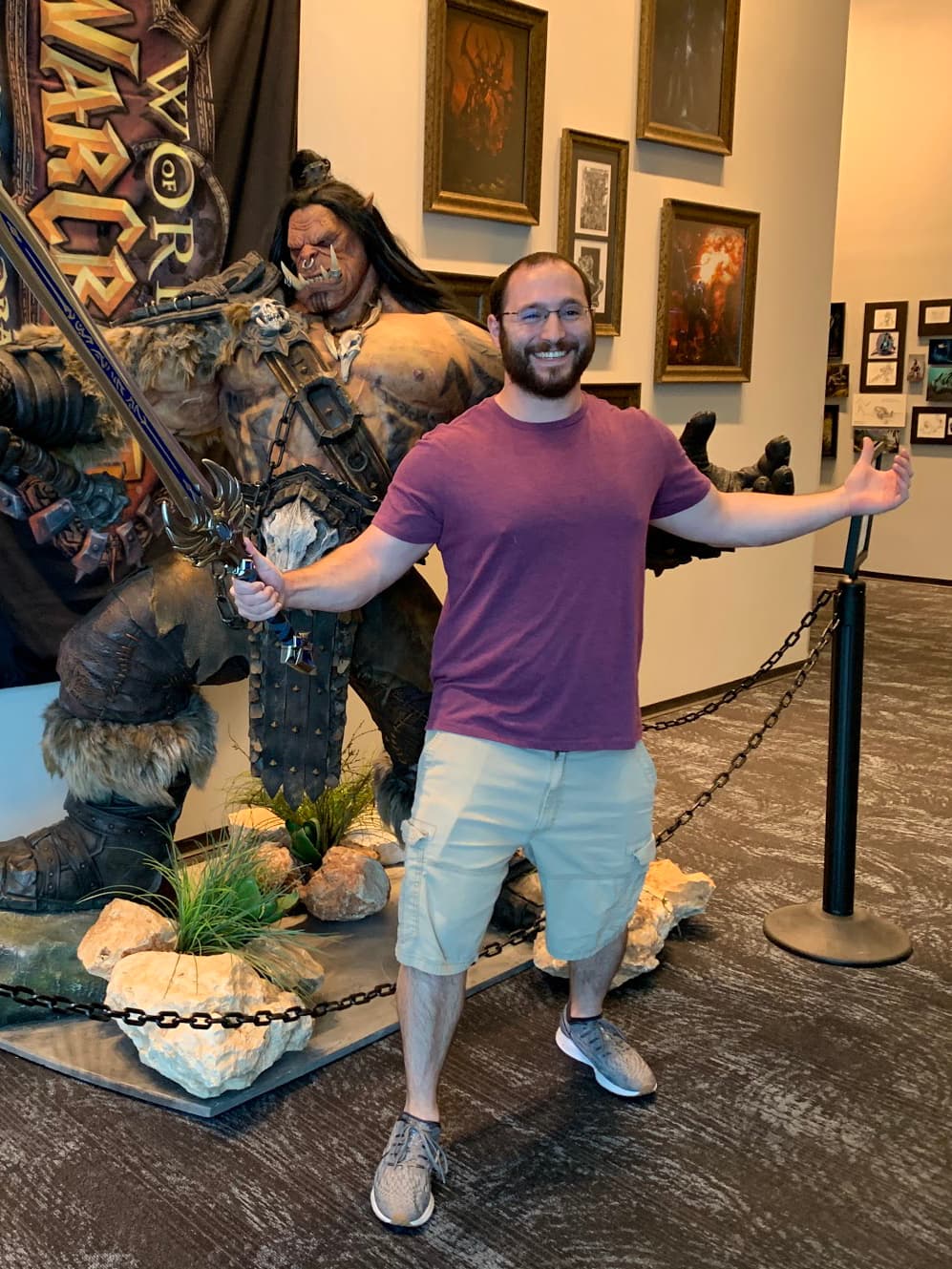 I'm Kevin. I live in TX where I work in the game industry.
Here's a little bit about where my journey has taken me and where I am today.
I started programming in high school, having signed up for a website design/development class. As you can imagine, the course was introductory; back then, we used Dreamweaver to build table-based websites. That class sparked my interest and set me on the path I've been on ever since.
After high school, I originally went to college for Computer Information Systems at a community college in Upstate NY. That didn't work out for me. The curriculum wasn't sticking with me, and I changed my major to Criminal Justice. Although I completed my associate's degree in Criminal Justice, took a civil service test, and had offers from several different agencies, I eventually decided that wasn't where I wanted to be. I returned to the same community college to complete the original associate's degree, and then later attended a university to complete a Bachelor's in Computer Information Systems.
While working on my Bachelor's degree, I started playing World of Warcraft again and eventually linked up with a group that was doing something called "multiboxing." Through this group, I also became involved with helping admin a community & Ventrilo server called the "WoW Public Vent." This server was unique in that, as I understand it, we had a special license that allowed up to 1,000 players to be connected at any given time, whereas a standard server license allowed much less. I built several community websites and projects for this community/group, and that's where I really cut my teeth on building something from the ground up and of any actual complexity.
From there, I was fortunate, and a chance application I submitted to Blizzard Entertainment materialized into an internship working on the World of Warcraft community website. This was a dream come true for me and not something I could have ever imagined possible. Twelve-year-old me playing hours of Final Fantasy XI online on my PS2 would have never believed that I'd be working for Blizzard, let alone that I'd be working to support anything related to World of Warcraft.
After graduating with my Bachelor's in Computer Information Systems, I returned to Blizzard to work with the same team I had interned with, and I stayed with that same fantastic team/group for more than six years. Throughout that time, I worked my way up from Associate Software Engineer to Senior Software Engineer, and mainly worked on projects that supported World of Warcraft on Blizzard's public-facing websites and APIs, as well as internal tools and services. Developer advocacy and community relationship management for the APIs was some of my favorite work however, as these APIs were integral to my development as a software engineer while in college, and this was a great opportunity to give back to the community that I was previously a part of.
I finally decided to spread my wings in early 2021 and jumped over to a much smaller company called Gamebreaking Studios. When I joined, I was only the second employee at the company, not including Founders. This transition has offered its unique challenges and adventure, but I'm enjoying working on a smaller team with wide-reaching impacts.
Since working at Gamebreaking Studios, I've worked with clients such as Riot Games & Blizzard Entertainment on consulting and contracting engagements, but more recently I'm focused on building the team and tech powering BespokeCI. I'm excited about where this company and product are heading, and I look forward to sharing more later in our journey.